Welcome back gamers to the end of another week, not to mention a close to the month and the quarter.  So many different time periods closing this weekend, headlines were made to coincide, so let's look at a few that made their way out there.
Medal of Honor fans  who are playing on their Xbox 360s, good news was announced. EA released information that they intend to release a multiplayer beta of the up coming Medal of Honor: Warfighter which will begin in October. Warfighter is the sequel the 2010 reboot of the franchise, where players will take control of various Teir 1 operators.  The upcoming beta will feature the same type of game play, and will feature a new feature called 'HotSpot'; which players will either attack or defend randomly-selected locations with in the city of Sarajevo, Bosnia.  Stay tuned to Zero1Gaming for developments on this upcoming title.
Grand Theft Auto III saw another re-release this past week on Playstation Network in North America.  The game was released as a PS2 classic, which means there is no HD remake of the title, or trophy support.  GTA 3 was originally scheduled for release back in July, but had to be postponed when developer Rockstar had "complications" regarding licences relating to some of the audio tracks played on the radio stations in the game.  Since the game's original launch in 2001, the game has made its way from the Playstation 2, to several other platforms.  Arguably the most popular title released for its era, Grand Theft Auto 3 made  its way to Xbox, iOS, Android, OSX, and  Windows; the platform tour is stopping at the Playstation 3.  Grand Theft Auto 3 made its PS3 launch on September 25 in North America, and other regions soon to follow.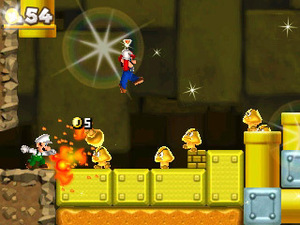 This week, Nintendo detailed the first batch of DLCs for the upcoming New Super Mario Bros 2.  The first three releases are set for a Japanese release on October 2.  The DLC will provide new courses for the game's Coin Rush mode, according to CVG. The 'Ippatsu Shoubu de Dokidoki Pack', 'Gold Mario Go! Go! Go! Pack' and 'Kiroku ni Challenge! A Pack' offer either a spike in difficulty, or task players with collecting a certain number of coins.  This recent installment  features new items such as the Gold Block power-up, the Gold Ring collectible and Gold Mario, who can throw fireballs that can change blocks and enemies into coins.  There is no word when Europe or North America can expect a release.
Back home at Zero1Gaming, we announced earlier this month the upcoming event, LAUNCH: Future Gaming & Digital Conference 2012.  The two day event aims to promote the UK gaming industry, and to connect to people who are trying to break into the industry.  Over 20 different speakers are registered for the conference, including Codemasters, Sega, Microsoft, EA, Activision, Vodafone, Playground Games, Jagex, and more. "The annual conference for nearly 300 people focuses on the developer community and encourages the games industry to start, develop and grow their business hearing from global brands which culminates in this 2-day event which has been built on a programme of successful LAUNCH meetups, seminars and events throughout the year." said organiser of the conference, Matthew Hidderley of Birmingham Science Park.  To sweeten the pot, Zero1Gaming readers, (this means YOU) who intends to attend, and haven't purchased tickets yet; Z1G partnered with the convention to offer 60% off the tickets.  Use the promo code "Zero1gaming" to take advantage of this offer.  Launch is scheduled for November 13 and 14.